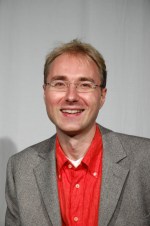 Email: arzheimer@politik.uni-mainz.de
Office: GFG, Jakob-Welder-Weg 12, 04-329
Tel.: +49 6131 39-23763
Fax: +49 6131 39-23729
Office hours: by appointment
Recent Publications
Jocelyn Evans, Kai Arzheimer, Rosie Campbell, Philip Cowley, "Candidate Localness and Voter Choice in the 2015 General Election in England", Political Geography, Volume 59, July 2017, Pages 61-71, doi:10.1016/j.polgeo.2017.02.009.
Arzheimer, Kai. "Another Dog that did not Bark? Less Dealignment and More Partisanship in the 2013 Bundestag Election." German Politics 26.1 (2017): 49-64. doi:10.1080/09644008.2016.1266481
Arzheimer, Kai and Jocelyn Evans. "Estimating Polling Accuracy in Multi-Party Elections Using Surveybias." The Stata Journal 16.1 (2016): 139-158.
Arzheimer, Kai and Harald Schoen. "Political Interest Furthers Partisanship in England, Scotland, and Wales." Journal of Elections, Public Opinion & Parties (2016).doi:10.1080/17457289.2016.1179315
Arzheimer, Kai. "Strange Bedfellows: The Bundestag's Free Vote on Pre-Implantation Genetic Diagnosis (PGD) Reveals How Germany's Restrictive Bioethics Legislation is Shaped by a Christian Democratic/New Left Issue-Coalition." Research and Politics July–September (2015): 1-7.  
Arzheimer, Kai. ""The AfD: Finally a Successful Right-Wing Populist Eurosceptic Party for Germany?." West European Politics 38 (2015): 535-556. [Download PDF] [HTML] [DATA]  doi: 10.1080/01402382.2015.1004230
Homepage:
You can find more information on my research and teaching on my homepage: